Your Complete Guide to Talking Money With Your Partner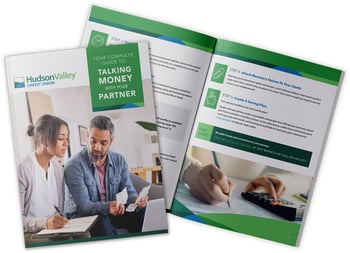 Money is personal. It doesn't matter if you've been together for decades or are just starting a life together. We all have our own ideas of how we think about it, spend it, save it, and try to earn it. But when you're sharing so much of your life with a partner, it's inevitable that your individual approaches toward money will sometimes clash.
What's Inside This eBook?
Get access to great advice on how to talk finances with your loved one, covering a wide range of topics, including: 8 Steps to talking money with your partner, do joint accounts or separate accounts make sense for you, tips for newlyweds on how not to let financial stress take over your relationship, advice on how to keep the lines of communication open, and so much more.
Complete the form to get your FREE copy today!